By: Kayla Manz
Finishing a series on Netflix (or on any streaming service for that matter) is always sad. When you finish a show, it's like, what's next? What do I do with my life now? Some shows you have been with since the beginning, and have been following for years and years. While others, you binge watched and finished within weeks, or maybe even days depending on how many seasons there were. Binge watching can be very dangerous due to the fact that once you start watching a show, you may be able to finish half a season, or even a whole one, in just one sitting. There are the series where you like waiting for a new episode to come out every week and you have it taped on your DVR; Then you have your binge watch worthy shows where you start playing one and then let the rest follow. So, here is a list if you are in short supply, or out of ideas on which shows would be good to binge watch and why.
1) Gilmore Girls
Gilmore Girls started in the year 2000 and has seven seasons with the last one ending in 2017. This show is great to binge watch because we as viewers essentially see Rory (Alexis Bledel) go through her optimal teen years along with her very young mother and best friend. We are there for key decisions in her life as we watch her grow up. Because of streaming services like Netflix and Hulu we have the chance to watch multiple episodes in one sitting and with a show like Gilmore Girls the viewer can feel a certain level of comfort. What makes this show so binge watchable is the pleasant and community-like feeling that comes with every episode. Once an episode ends, the subtle curiosity will have you clicking to watch the next episode of Rory's life and before you know it, you're already halfway done with season three, which you just started the same day.
2) The Office
Now this seems like an obvious choice because it is a very popular TV show, and I'm sure you have already heard of it before. However, what makes this incredible mockumentary style TV show binge watchable is the length of episodes and the content (plot point and storyline). In early seasons of The Office, each episode is around twenty minutes to thirty minutes. With these episodes only being so long, it is easy to just let the next one play because it has felt like no time at all has passed. Why viewers keep playing The Office is because of the way the show is set up. Meaning, for some the comedic aspect reduces stress and provides comfort. Some people play it while doing simple household chores, before ending a long tiring day, and even just letting the show be a part of their everyday lives. The dry humor keeps you alert and laughing throughout each episode. While each episode is different there are some continuous storylines happening. For example, the relationship between Pam and Jim is an ever changing and ongoing one that the viewer would not fully understand if they haven't kept up with all the episodes. If you have not seen The Office and just need to kill hours out of your day, this is a good place to start.
3) Orange is the New Black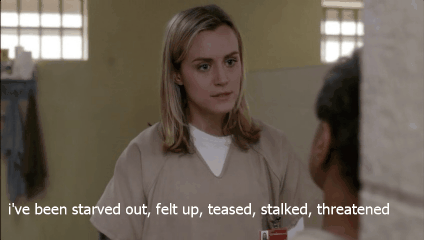 In this drama filled, intense TV series, Piper Chapman (Taylor Schilling) gets sent to prison for a crime she committed years ago. In prison she makes friends and enemies all while trying to stay alive. This is a perfect show to binge watch because each episode is filled with so much intensity, you absolutely cannot wait to play the next one. There would be too much suspense in waiting to watch each episode. Meaning, when you finish an episode and it leaves you on a "cliffhanger," all you will be thinking about is what happens in the next episode. So much to the point that you may not be productive until you get to watch the next episode. It happens to the best of us. The show includes a very diverse set of characters which evolve over time. What makes this show easy to binge watch are the characters themselves and following their lives and their life altering decisions. The decisions of certain characters will have you loving and then hating them. Since they are always changing, it is important to stay up to date and finish as many episodes as you can. Allowing yourself to be engulfed up into the world of Litchfield prison is dangerous, yet addictive which is why Orange is The New Black is a great show to binge watch.